TherapyLand: The Ultimate Play Therapy Centers for Kids
TherapyLand, a research-backed Thriveworks concept, is dedicated to positive development and mental health treatment for children. These behavioral health centers — currently at 19 locations across 14 states — provide a positive, welcoming place for kids 12 and under to get the care they deserve through play therapy.
Our TherapyLand providers specialize in helping children, specifically through play therapy, and come equipped with years of training plus additional certifications that enable them to provide your child with quality mental health care. They can help children with developmental disabilities, autism spectrum disorders, language development, learning disabilities, ADHD, parental divorce, bullying, behavior problems, emotional regulation, trauma, grief, and more.
TherapyLand is a safe space for your child to confront, understand, and work through the problems that they encounter throughout childhood.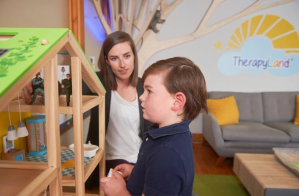 Play Therapy Tools Used at TherapyLand
TherapyLand provides children with the tools needed to explore and express their thoughts and feelings. Several play therapy tools at TherapyLand include home/kitchen play, dollhouses, Bobo dolls and puppets, dress-up, arts and crafts, basketball, blocks, and nurturing toys.
As stated by Garry L. Landreth, "Toys are children's words and play is their language." We believe that the toys and tools that we provide them with in TherapyLand will enhance their ability to grow, improve, and excel with their therapist.
How Can Child Therapy Benefit My Child?
Play therapy is designed to help children navigate the mental health challenges that they might run into during their formative developmental years. We've outlined a few common problems above that many kids endure. Let's take a closer look at a few of these challenges and how play therapy can help:
Behavior problems

: If or when your child starts acting out, it can be difficult to understand why, but children often vent their frustration and express other emotions through play and physical activity. For example, a child who plays roughly with other children or with toys may be mimicking experiences or residual emotions that they aren't sure how to work through. TherapyLand provides a comfortable and safe environment for the child to interact, where their therapist can observe the child's interactions with the toys that are provided and engage with your child when appropriate. 

Bullying

:

Bullying

is another common problem in children today, which can lead to low self-esteem, anti-social behavior, and other negative mental health effects. If your child is getting bullied, dolls, figurines, or even drawings can help your child process and reconstruct bullying scenarios, providing a gentle opportunity to work through their emotional pain.

Parental divorce or family conflict

:

Children of any age can feel angry, fearful, and confused as a result of their parent's divorce or another form of family conflict. Our play therapists can assist, using the tools in TherapyLand — for example, by reading short stories that closely resemble your child's current situation, asking them how they felt about the story, and then working together to highlight solutions and foster hope and optimism during tense home life circumstances. 
TherapyLand provides a safe space where your child can feel comfortable and encouraged to open up through play.
Our Story: How Did TherapyLand Come to Be?
Child therapy is an important service. Many people offer it, but it isn't always conducted in the right environment. We met with a nationally recognized play therapist who explained her experience working behind a school's janitor closet. The kids had to walk through the janitor closet—past all of the chemicals—to get to her office. She went on to explain that the room was basically a cinder block pump room with a structural post right in the center.
Unfortunately, this story is all too common. The good news, though, is that TherapyLand is the exception. We began with a simple question: "What would the ideal kids' counseling practice be like?" We posed this question to some of the most respected professionals in the child therapy field (some of whom were already on our team). For many, this question was pure fantasy. One child therapist had a PowerPoint slide depicting a rough sketch of a large play therapy room with a sandbox in the middle and lining the walls were different sections for play therapy tools. There was one section for dress-up, another section for puppets, another for aggressive toys, and so on.
She said, "This is what the ideal play therapy room would look like. None of us will ever have this—it would be much too expensive—but this is what it would be." We knew right then that we had to build this, to make it a reality. We had to have a place for child therapy that would allow the best therapists to do their best work. A place that would be both therapeutic and empowering to every child that comes through its doors.